Temporary space to help you deal with the impact of Covid-19
At Trafalgar we appreciate that the pandemic has put pressure on establishments to abide by new Covid restrictions. That is why we have put a lot of time and effort into developing solutions to help you carry on with business as normal. Whether it's in the classroom, on a construction site or outside your restaurant we want to help.
Our solutions are ready to use and can be built in any size, on any surface, to fit your requirements. The structures are built to withstand the winter months and a monthly H&S inspection will ensure they remain up to our high standards for the duration of the hire.
Being Covid secure starts with us, that is why all of our staff have their temperature taken before arriving at work and throughout the day. They also follow strict social distancing rules on site and in the yard. In those instances where close work is necessary, we ensure a face mask and shield is worn. It's the small things that matter at Trafalgar, therefore all our vehicles are fitted with hand sanitiser and anti-bacterial wipes.
Classrooms / Lecture Halls / Common Rooms
We can provide structures for schools where social distancing is necessary, or you may just need additional space. The structure can be tailored directly to your needs including exam styled desks correctly spaced. Each space can be well lit and fully temperature controlled.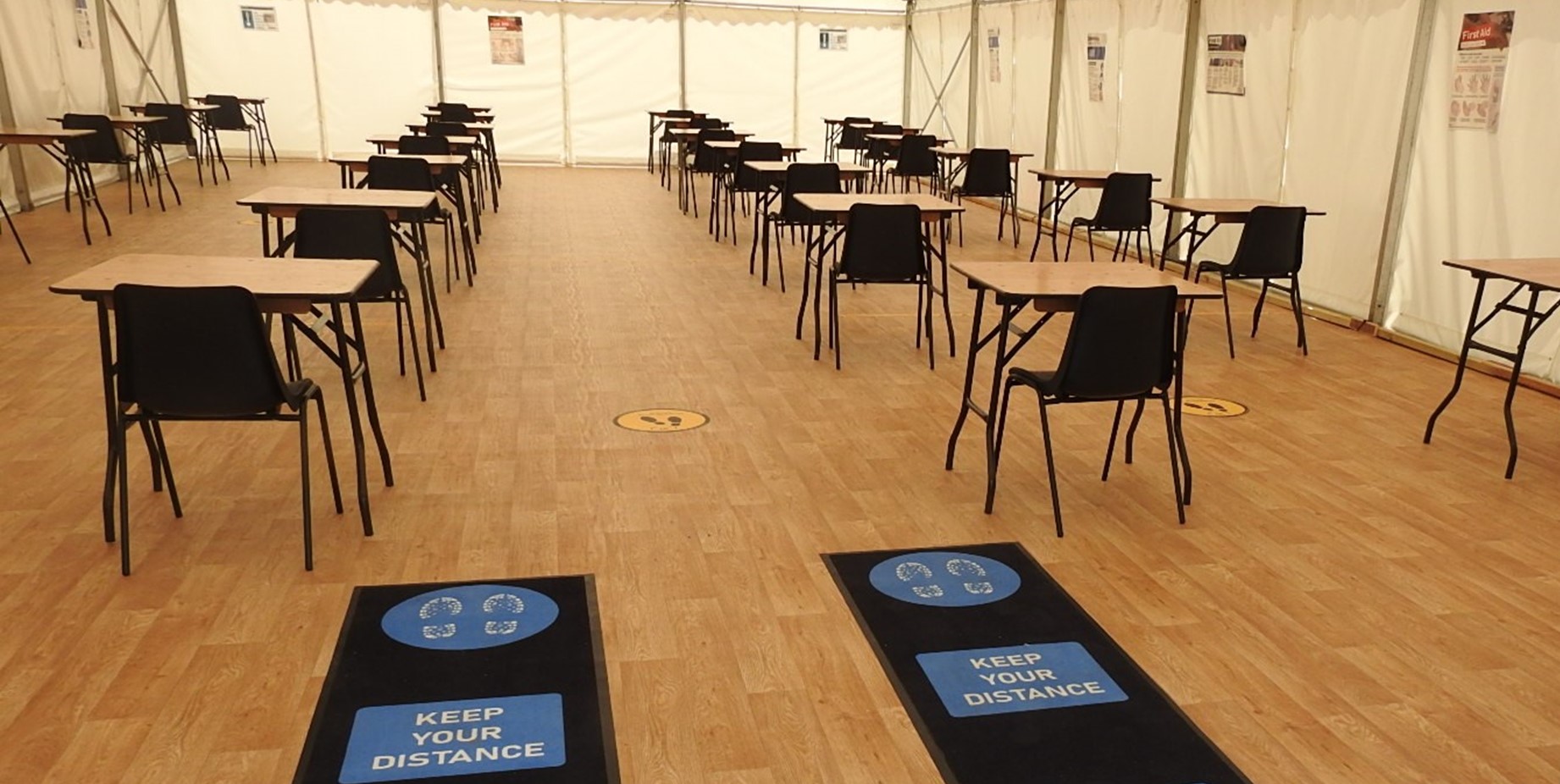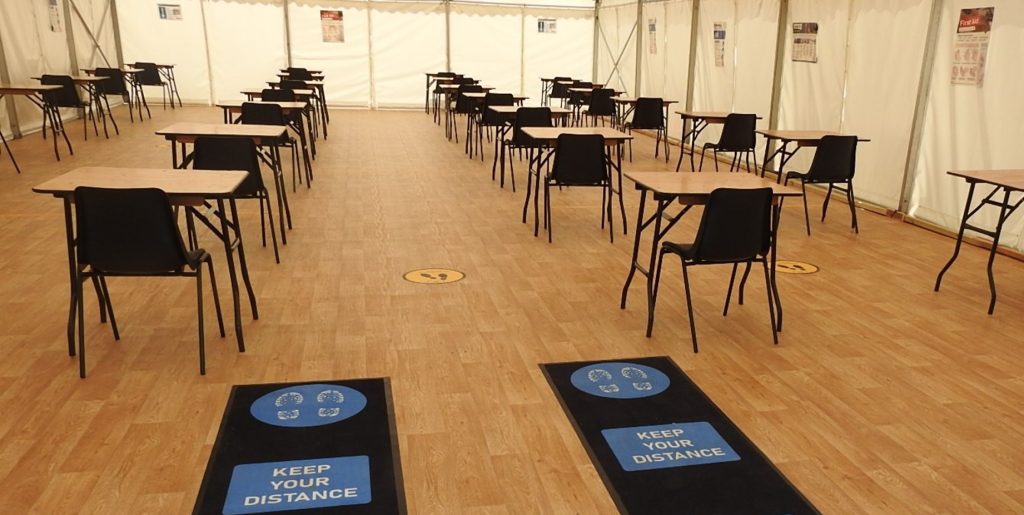 Temporary Canteens
Our structures provide a perfect solution for an additional canteen. Can be built with a range of features to fit your needs. Can include vinyl flooring, heating, lighting and many more add-ons
Hands-free sanitiser stations
We offer a heavy duty, hand's free, pedal operated hand sanitiser dispenser. This can be sold as an individual item or included in the hire price of one of our structures. Very easy to use and efficient.
Covid signage and floor mats
Our social distancing mats and Covid signage are there to offer a timely reminder to keep to the rules! Very durable and perfect for any space. Contact us for personalised signage.
TMAC – temperature monitoring access control
A state of the art piece of technology that will read peoples temperature and grant them access accordingly. Perfect if you have people constantly in and out of the office/establishment/site all day. We are also able to supply access gates to create a fully controlled access solution. The TMAC also has face recognition and the ability to check if people are wearing a face mask. The TMAC is available to purchase or hire. Please call our office for any further details.
Covid Secure Pod
Looking for the ultimate Covid prevention solution? Look no further! At Trafalgar we are currently developing and manufacturing an all in one Covid station. The structure will house a TMAC along with a pedal operated sanitiser, face mask and glove dispenser.
Contact us now
To source the temporary space you need to deal with the impact of Covid-19, call us on 01932 632 060 or click the button below.